---
---
THE PERFECT TONING BELT FOR YOUR BODY
If you think that dieting and exercise are painful and difficult to maintain, then you really need ems abs to help you have a perfectly toned body.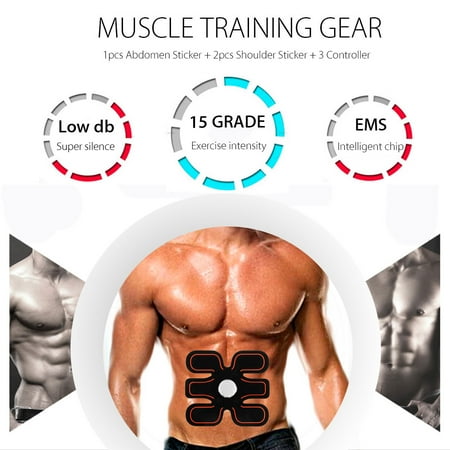 EMS Wireless Muscle Stimulator is for muscle training and body slimming. It can help to tone, tighten and strengthen your body muscles, you can gain a better figure after consecutive use of this product for about 2 months.
This is designed with ergonomics targeting abdominal muscle exercise. Fix the fitness gear to the position where you want to strengthen your muscle. Just press the button to start the exercise. There are 6 modes and 10 intensities are optional to help fat burning and muscle growing. Each EMS machine can be adjusted individually. You can select different modes and intensities respectively to meet your desired muscle training effect.
Features:
EMS TECHNOLOGY- EMS technology plays an important role in EMS abs muscle trainer. It imitates the brain signals to muscles, and then the muscles contract spontaneously. It's easy to achieve muscle trainer without getting tired.

6 MODES AND 10 LEVELS - Abdominal muscle has 6 modes and 10 strengths of abs muscle trainer. You can start to use it in the lowest gear position. Then strengthening it to select the most suitable and comfortable mode you want

USAGE FREQUENCY- Abs muscle toner is designed for different body parts which create perfect body lines, such as arms, abdominal, waist, hip, and leg. You can use it anywhere at any time. It is suitable for 12 minutes per time and 3-4 times per week. Ideal gift for lazy people who want a perfect body line.

PORTABLE DESIGN - You can use this EMS AB trainer anytime, anywhere. It's super light, ultra-thin, WEARABLE, and convenient to carry on. Body Fit Pad can be worn unobtrusively under your clothes, making it ideal for muscle training while read.
Specifications:
Main Material Body: PET resin gel
Pad: Polyacrylamide
Glycerin Remote: ABS resin
EMS devices: AAA*2 batteries not including
Power source Input: 100-240V,50/60Hz
Output: DC5V 1000mA
Package Includes:
1 x EMS Wireless Muscle Stimulator
---